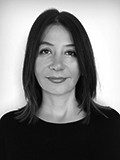 Guest Speaker in INGLASS Conference, Ven Architecture
Founder of
Ven Architecture
, Turkey
Project: Turkish Ministry of Transport, Maritime Affairs and Communication
Project Award: Shortlisted in WAN AWARDS-Glass in architecture, 2014; Winner in the European regional stage of the International Property Awards 2014-15; Green Good Design 2014 by Chicago Athenaeum; World Architecture Festival (WAF) 2013 Winner Future Project / Office Buildings / Shortlisted
Awards: The Building Information Centre Design Award 2008
Gül GÜVEN received her BS degree in architecture from Istanbul Technical University, in 1988. After graduation, She attended Middle East Technical University, Architecture Faculty and achieved her MS in Restoration in 1993.
She founded VEN Architecture in 1991 in Ankara. The branch VENistanbul joined in 2012. The company continues to work on many projects both locally and internationally.
VEN is a national- international award winning company that concentrates on contemporary-creative design. From building complexes to a single building, architecture, restoration, consultancy and interior design services are provided. VEN as a young company that aims to establish a balance between traditional wisdom and contemporary vision.
Gül GÜVEN has received prestigious awards from most of the competitions she attended: Green Good Design (2014), International Property Awards (2014), WAF (2013) She also served as a jury member at Ankara Courthouse and Knauf -Design competitions. Additionally, she was speaker at many architectural and design seminars, congress and panels.
Güven is a member of the Chamber of Architects of Turkey, RIBA, TSMD (Turkish Association of Architects in Private Practice), Konder (The Association of Restoration and Preservation), Kagider (Women Entrepreneurs Association of Turkey).
Turkish Ministry of Transport, Maritime Affairs and Communication, presented in INGLASS Bucharest 2015
The project for the headquarters building of the Turkish Ministry of Transport, Maritime Affairs and Communication is an expression of high-quality design for public buildings. Once completed, the building will be the most eco-friendly public building in the country and a new symbol of the green government. The building's glass exterior and brightly lit spacious interior spaces are designed to represent transparent democracy. Much emphasis is given to accessible design with urban and social integration. The building has a gross floor area of 51,000 m² and consists of three interconnecting blocks. The minister's office and other VIP areas are located at the jewel-like front block facing the main road. Other offices are located at the high-rise block with the dynamic form. The third block connects the front and the high-rise block used for employee and visitor entrances. Sustainability is the soul of this building. Renewable energy sources are used throughout. The goal is to get LEED Platinum certified. To save energy, passive design through good orientation, natural lighting, heating and cooling is employed. Wind turbines on the rooftop, PV solar panels, solar collectors, tri-generation systems, geothermal energy, grey water and rainwater recycling systems, LED lighting, and daylight sensors are also used in order to make this building a showcase for the government's view towards sustainability.
Awards won by the project:
Shortlisted in WAN AWARDS-Glass in architecture, 2014
Winner in the European regional stage of the International Property Awards 2014-15
Green Good Design 2014 by Chicago Athenaeum
World Architecture Festival (WAF) 2013 Winner Future Project / Office Buildings / Shortlisted
PHOTO GALLERY