Biography
POSITION
founder and head architect db2 architekci, Poland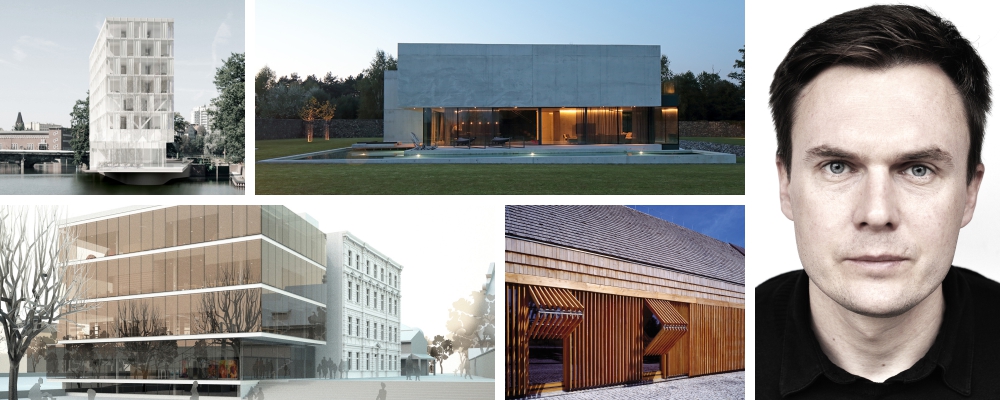 PRESENTATION
365
Open Air Museum Building, Opole, Poland
The museum is situated by the national road leading from the Opole downtown in the direction of Wroclaw, about 6 km from the city centre. We treated the area of the Opole Rural Museum ethnographic park as a composition foundation, in which its spatial and educational advantages are most important. The new building completes and extends the already existing building arrangement. It also refers to traditional character of the park architecture with its composition, block proportions, materials used and the interior functional plan.
The building shape refers to historical forms of rural buildings in the Opole Silesia region. The basic projection of the dwelling building – the black and the white chambers, separated with a vestibule is reflected in the concept of the new building. It is covered with a traditional roof coat material – a shake. It refers to the character of the surrounding architecture.
Awards:
SARP Award for the best realized building in 2008.
SARP Award for the best building erected from public means in 2008
Nomination for Mies van der Rohe Award 2009
House near Opole, Poland
In 2008 we were commissioned to design a house for a family of four. An Idea of a building was developed in which the open space – by adding new features – is gradually transformed into a closed space. This rule is visible in the projections and sections of the structure. Water is an important element of the design; it surrounds the house on two sides, its colour reflects the changing weather, and its surface creates reflections on the building walls.
The concrete wall is the border of the house dwellers' private space. Life goes on behind the wall. The interior reacts to every change in the weather. The use of such materials as concrete and glass is balanced by the green garden. Cold-rolled steel sheets were used as the finishing of the central stem of the building. On the first floor, the concrete floors and walls are matched with the wood used to make the furniture and built-in closets. We followed the principle of the candour of beautifully aging materials.
AWARDS
SARP Award for the best realized building in 2008.
SARP Award for the best building erected from public means in 2008, both for Open Air Museum Building in Opole, Poland.
BIOGRAPHY
Mariusz Tenczyński, architect. Graduate of Architecture at the Silesian University of Technology in Gliwice. Together with Iwona Wilczek co-founder of db2 architekci studio established in 2003. Holder of SARP Award, Member of the Association of Polish Architects SARP, vice-chairman of SARP Opole. Laureate of many architectural competitions. Co-author of Open Air Museum Building in Opole (2005-2008), nominated for the Mies van der Rohe Award. Since 2010, tutor at the Faculty of Civil Engineering and Architecture, Opole University of Technology.