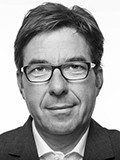 Guest Speaker at INGLASS Conference, PP Hentrich-Petschnigg & Partner GmbH + Co. KG
Partner
PP Hentrich-Petschnigg & Partner GmbH + Co. KG
, Germany
Projects: Dreischeibenhaus, Vodafone Campus
Project Award: MIPIM Award 2015 World's Best Refurbished Building
Awards: Good Building Award by BDA Düsseldorf 2014; MIPIM AWARD 2014, category "Hotel&Tourism Resorts"; Cityscape Award 2014 by AND; Distinguished Alumni Award by Texas A&M University;
Volker Weuthen was born in 1957 in Mönchengladbach and studied architecture and city planning at the Rheinisch-Westfälische Technische Hochschule in Aachen. His undergraduate thesis was awarded the Hochschule's Springorum Prize in 1985. He worked in the offices of HPP and JSK until 1992 and directed an architect's partnership in Hagen with Jürgen Bahl. In 1992 he went to HPP's Düsseldorf office, first as a project director and then as a project partner from 2000. Weuthen has been an associate of HPP since 2007.
Weuthen is a member of the Chamber of Architects in North Rhine-Westphalia.
Dreischeibenhaus MIPIM Award 2015 World's Best Refurbished Building
The refurbishment of Düsseldorf's famous landmark has won the MIPIM Award 2015 in the Best Refurbished Building Category.
Awarded during the MIPIM Property Fair in Cannes, the MIPIM Awards are among the most significant real estate prizes in the world. The jury of eleven including architects Kengo Kuma and Dominique Perrault and the MIPIM visitors voted for the Dreischeibenhaus, putting it ahead of the three further finalists including the Riyadh National Library.
Dreischeibenhaus provides 35.000 m² of upgraded state-of-the-art office space in the heart of Düsseldorf's CBD. This high-rise building, former headquarter of Thyssen Krupp, is already a unique heritage landmark and famous throughout Germany. Designed by internationally-renowned HPP Architects, the completed refurbishment is in compliance with LEED Gold Standard Green Building Criteria. Particular highlights are the façade, an impressive two-story entrance lobby, spectacular roof terraces and sustainable engineering.
PHOTO GALLERY