Biography
POSITION
Founding Partner of JEMS Architekci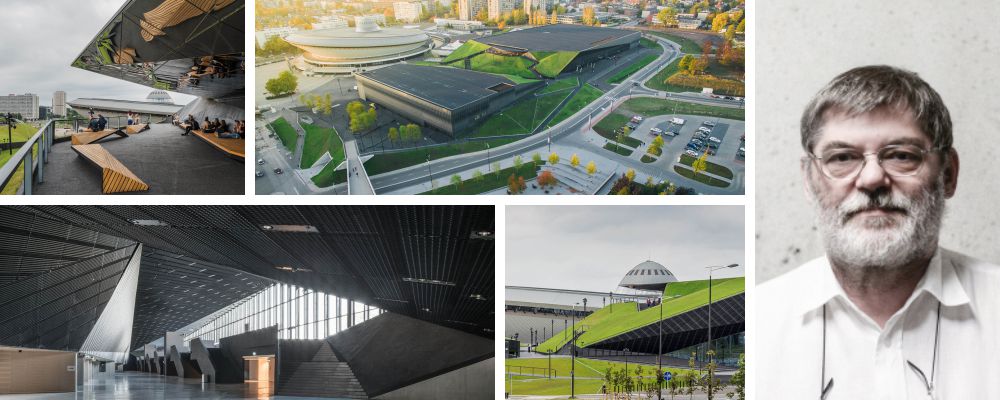 PRESENTATION
International Congress Center
AWARDS
SARP's PRIZE OF THE YEAR 2015 for the best architectural object realized in Poland in 2015
2015 1s prize – Competition "Life in Architecture" for the best housing building 2013 – 2014 Wilanowska housing building
2014 Mention – Polish Association of Architects competition for the best architectural building in Poland
2013 Raczynski Library, Poznan
2014 1st prize – "Polish Cement in Architecture" award Raczynski Library, Poznan
2013 1st prize – Giovanni Battista Quadro Award for the best building in 2012 in Poznan Pixel, office complex, Poznan
2013 1st prize – Competition "Life in Architecture" for the best multi – family building 1996 – 1997 19. Dzielnica, Warsaw
2012 1st prize – Competition for Polish Embassy in Berlin Unter den Linden, Client: Ministery of Foreign Affairs
BIOGRAPHY
Jerzy Szczepanik-Dzikowski – architect, born in Lublin in 1945. Graduated from the Faculty of Architecture, Warsaw University of Technology in 1972. In 1984-1987 President of The Warsaw Chapter – Union of Polish Architects SARP. In 1984-1989, ran an autonomous architectural studio together with Olgierd Jagiełło as part of the ESPEA cooperative. Since 1988, founding partner of JEMS Architekci. În 2001-2005 Secretary of Polish Chamber of Architects Since 2010, supervisor of diploma projects at the Faculty of Architecture, Warsaw University of Technology. Winner of the SARP Honorary Award 2002.
JEMS Architects was founded in 1988. The team though, had been working together since the early 80's. Starting up as an independent practice at a time of democratic change in Poland, JEMS joined the push for the restoration of a Polish architectural culture. The cooperation of the partners matured in an office/workshop formula, offering an inspiring space for an exchange of a variety of ideas and views. Architects, Olgierd Jagiełło, Paweł Majkusiak, Maciej Miłobędzki, Marek Moskal, Andrzej Sidorowicz, Jerzy Szczepanik-Dzikowski, Marcin Sadowski and Wojciech Zych – Chairman of the Board and responsible for financial and legal matters, form the core of the office, manage and coordinate the work of the architectural teams in conjunction with various other specialized design offices. During the last 25 years, JEMS has grown from a small design office into a 60-strong team of architects. In 2008, JEMS moved into their own purpose built office, which is situated in Warsaw on Gagarina Street.
The JEMS architects are guided by a regard for reality both as the subject of their creative attention and also as the framework for their activities. They endeavor to read reality's complexity through a filter of culture, history, tradition and the context of place. They seek inspiration in their reading of this multi layered impression of reality, as well as in the limitations and conflicts inherent in their times. They venture into areas which at times offer no opportunity to formulate a quick or, unequivocal and synthetic response to the design problem. They have never aspired to a 'universal method – strategy". They are guided by experience, amassed over the years and by their intuition honed by time. They find the images, associations, feelings, and rules along the way. Along the way they make discoveries which surprise them. It is these discoveries which give meaning to their efforts. The JEMS office is a place for open discussion and debate. The ideas thus generated are the result of these talks and research where different views and opinions meet.
In their work they try to find the things that are specific to the individual projects. They try to define the object of their work in such a way as to make it the basis for their architecture. JEMS avoid dazzling with form, they look for the essence of the object as for the object itself. They refer to the things that are timeless, order, tectonics, fascination with the natural properties of materials, light, the passing of time, proportions and the rules governing the building of forms. They are most satisfied with designs which, in the end, emerge as coherent, comprehensive images, ones that were first described and then discussed, in terms of the sequence of spaces structure, a quest for a unique and user-friendly atmosphere, the essence of the materials to be used, textures, light and moods – and only then is the