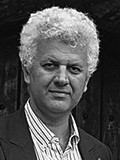 Arch. Borysław CZARAKCZIEW
Chairman SHARE Warsaw 2016 International Architecture Forum, National Chamber of Polish Architects
Biography
POSITION
Member of the Board and Plenipotentiary for international matters, National Chamber of Polish Architects (IARP)
BIOGRAPHY
An architect, the author of over 125 architectural designs of different scale and subject – from the renovation of the historical complex of the Grey House in Cracov up to the system of the Cracow Fast Tram. The designer of many buildings and housing, public buildings and offices.
He did work experience as an assistant of the designer in Koln in Germany, as an assistant on the Department of Architecture in Politechnika Krakowska, he managed the company Miastoprojekt-Kraków as the President of the Board. Miastoprojekt-Kraków in this period, among other things, did projects of: Lot- Catering building in Krakow-Balice, housing complexes, the project of the Cracow Fast Tram System with the reconstruction of Rondo Mogilskie in Cracow, the Factory of Philip Morris in Cracow and other.
In 2005 with Sławomir Kogut and Wojciech Romańcem he established the new design group GPP Grupa Projektowa. This team is a winner of many architectural competitions, inclusive international ones. Among others, for: developing the former Nazi Camp in Kraków-Płaszów, developing Embankments on the Vistula in Cracow, developing areas between the Rondo Mogilskie and Rondo Grzegórzeckie in centre of Cracow. The GPP Group won the III place in the international design competition of the Convention Centre in Katowice and other.
In 2011 GPP Grupa Projektowa became a winner of the public competition Cracow my House in the category residential building for the designed of the Art Residence building in Cracow.
Czarakcziew is a member of the Association of Polish Architects, in 1994-2002 years member of the board of the Associationin Cracow. He was an Organizational Secretary of the VI, VII and VIII International Biennial of Architecture in Cracow.
In 2002 Borys Czarakcziew was chosen for the first Chairman of the Malopolska Chamber of Architects, From 2014 he become the member of the Board of National Council in Chamber of Architects, plenipotentiary for international metters. Annually organized through Czarakcziew Days of Architecture became a permanent element of the presentation of the works of architects from the region. He is an animator of propagating architecture through the cyclical exhibitions "Quality in Architecture of Malopolska". This exhibition was presented in Cracow, Katowice, Warsaw and twice in London.
Up from 2009 he is representing Poland at works of ACE (The Architect's Council of Europe) in groups considered with accreditation and the certification of schools and recognizing professional qualifications.He represents Poland in ENACA (European Network of Architects' Competent Authorities). Member of Polish Council of Architecture.
All session by Arch. Borysław CZARAKCZIEW
9:55-10:10
BALTIC BALLROOM